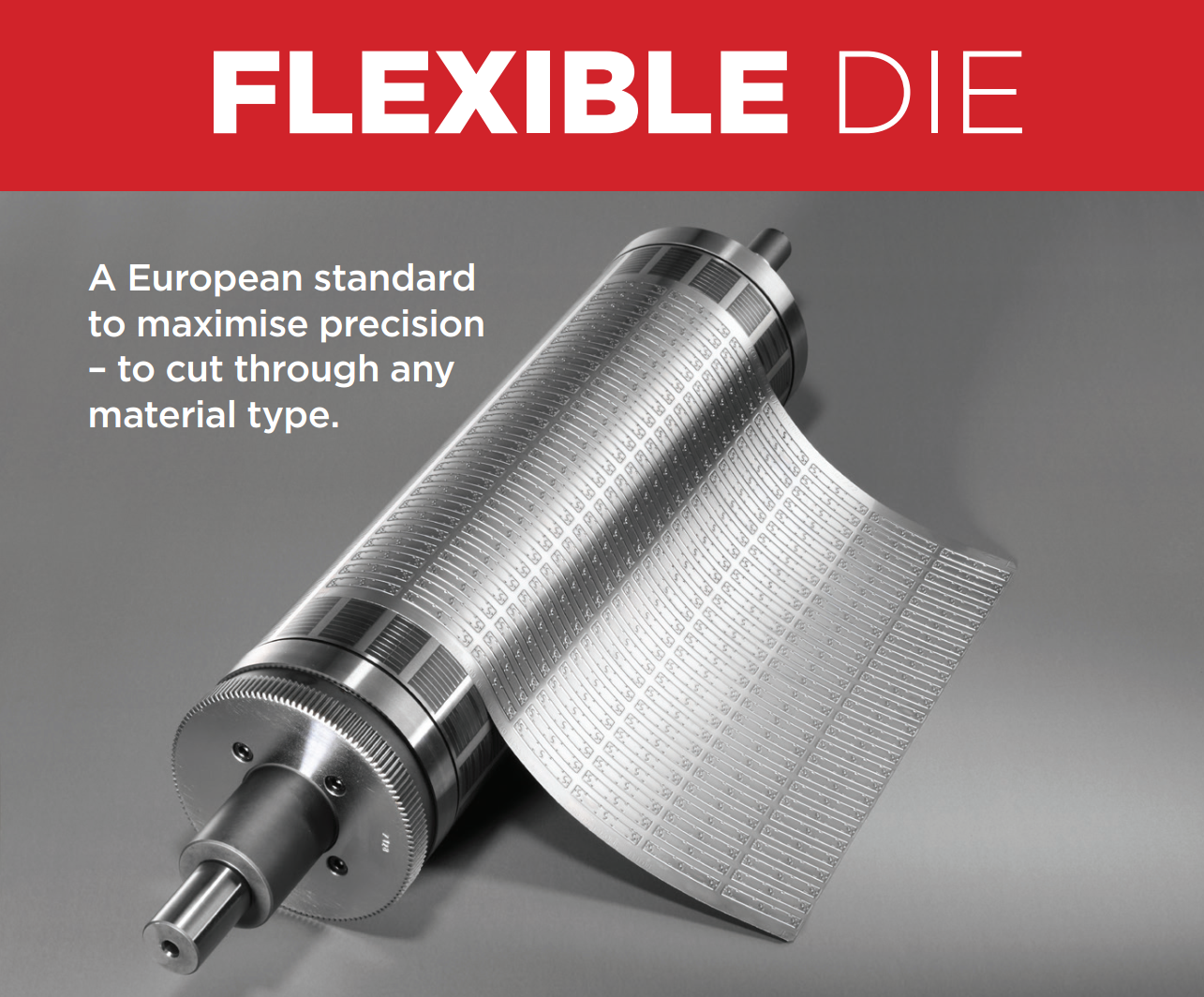 Getting the most out of your flexible dies
Eric Prabu – Rotary Die Specialist at Jet Technologies.
What are flexible dies?
Die-cutting tools are used in the process of cutting a label to size and shape with a die. Most self-adhesive labels require a flexible die to die-cut a shape as part of their printing and finishing procedure.
The flexible die is then mounted/wrapped around a magnetic cylinder where it then begins the process of die-cutting. This popular tooling option is the most popular solution for die-cutting, largely due to their much easier transportation, storage and handling, as well as being a significant cost saver.
We have found an increasing trend towards shorter print run lengths and minimum order quantities (MOQs). This has influenced the requirement towards choosing the best die that is right for the job.
What are the challenges?
Different applications require different tools for the job. The challenges involved in using the right flexible dies for cutting, perforating, creasing or cut through on different label and unsupported film. These substrates may be produced using different types of paper, film, foil, metallic etc. Not only this but some substrates and adhesives may well be more challenging to cut than others, requiring different cutting angles or heights.
The manufacturing of the different types of dies and tooling is a highly specialised and quite complex process, using hardened metals and coatings or surface treatments for the correct types of quality, performance and cutting profile.
So what type of flexible die should you be using on your next project?
This is a tricky question to answer, because depending on complexity of project and substrates used, we recommend different ranges and finishes in flexible tooling to suit.
A standard aluminium all-purpose flexible die is suitable for all types of self-adhesive and single-material products. The Kocher+Beck AI Universal die is suitable for all jobs involving kiss cutting and even cutting down to the anvil.
If you require a longer lasting die for longer run jobs, a hardened version which benefits from an extended service life, between 2 to 3 times longer. The laser hardening technology applied means hardening levels at 65-68 HRC, the Kocher+Beck 3L Laser Long Life is the right tool for the job.
With problematic substrates, to prevent adhesive and ink build-up to the cutting edge, as well as adhesive bridging between the label and grid matrix from materials with a high application of adhesive. A surface coating that is adhesive repellent is recommended, this specialised finish can be applied to the above dies – repelling overly adhesive substrates and minimising ink build up The Kocher+Beck GlueX range of dies have been specifically built for this.
We recommend that all flexible dies are CNC sharpened for a smooth polished cutting edges to stop rust build up with a nickel coating finish. These are only some of the options available for ensuring a "fit for purpose" solution for your next finishing job.
About Jet Technologies
Jet Technologies is a supplier of rotary die cutting technology for the label printing, sheet-fed and reel-to-reel offset printing industries.