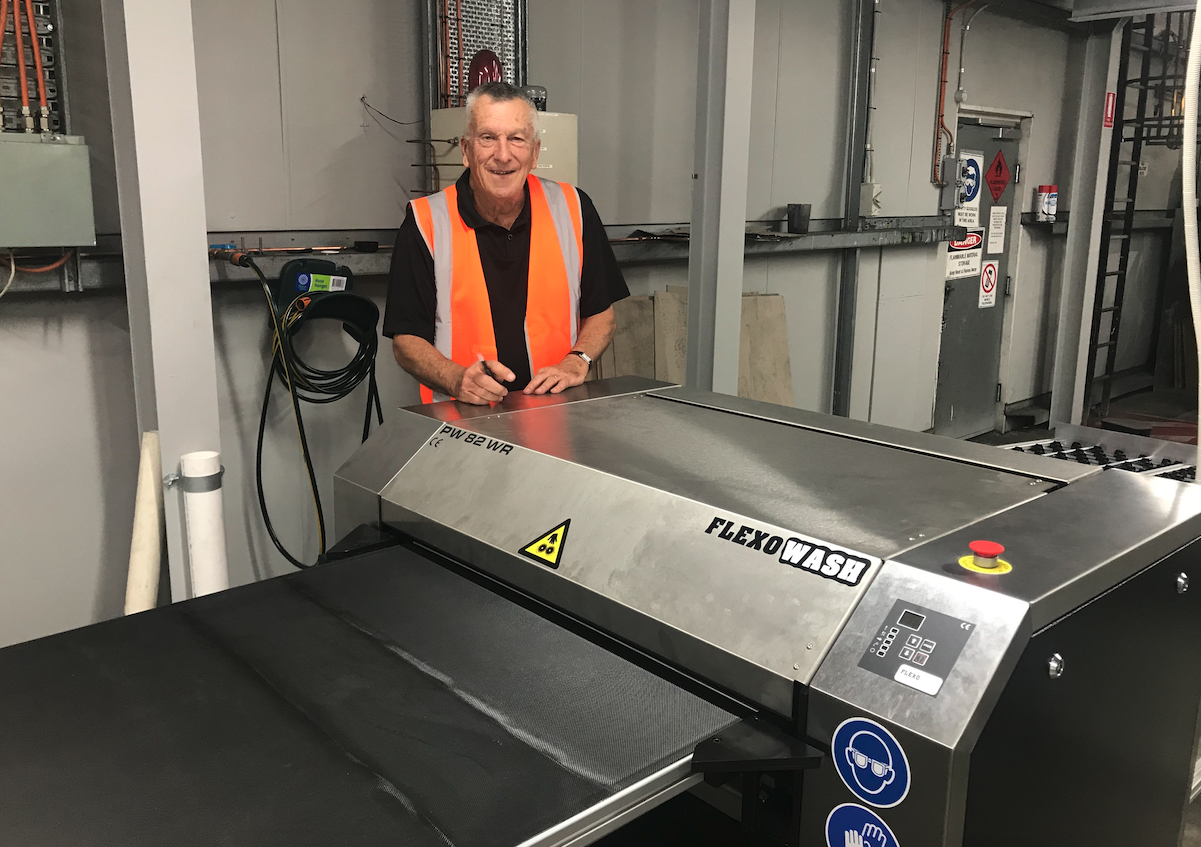 Integrated Packaging Regency Park cleans up with Flexo Wash
Integrated Packaging (IPG) delivers world class, end-to-end packaging solutions to an expanding roster of industries and global markets.
Integrated Packaging was purchased by Pro Pac Packaging in 2017, which enabled the business to expand on their manufacturing site to further support their food-based flexible packaging business, increasing their business size toward becoming a major player in flexible film manufacturing across Australia.
IPG offers an extensive range of products and services to meet almost any packaging requirement. IPG has a vast distribution network and a well-formed team, providing blown film, flexographic printing, slit/rewinding & converted bags predominantly for fresh produce applications.
The power of plate printing and cleaning
As part of the production process, IPG commonly prints onto flexible packaging for its clients.
Increased demand for high quality, eight-colour printed graphics on fresh food packaging led IPG to install an additional new wide web flexographic press to expand capacity at its Regency Park plant in Adelaide.
The packaging and presentation of fresh food in supermarkets has changed drastically from two colour generic images and limited packaging packs of the late 90s, to convenience based on retailers' own art files and requiring up to eight colour designs of today.
IPG use flat top photo-polymer plates in the printing process because of the higher printing quality it affords. However, to guarantee consistent high quality of their flexible film printing, the company needed to invest in the right plate cleaning equipment.
Cleaning plates is a key process in being able to offer consistently improved quality printing. Cleaning up to 250-300 plates per month, previously this could take on average half an hour per plate, which is a large time investment for our workers and the business' overall productivity.
Due to the time this process took, it could negatively affect efficiencies. Also, something for IPG to consider was the life span of the plates, as there is a damage and replacement rate factor, which was incurring costs.
When the plates are damaged or aren't cleaned properly it results in lower quality printing and potential downtime needed for reprinting in some instances.
In order to achieve consistent and efficient cleaning of the plates, as well as extend their life span, IPG required a better solution for time saving, same colour results, consistency of print and extended plate lifespan.
The need for new cleaning equipment
IPG had previous experience with Jet Technologies' equipment, with the Flexo Wash Anilox Cleaner installed three years ago, so when looking to invest in new equipment, achieving such a good outcome with the first Flexo Wash machine, delivering consistent colour results through Anilox cleaning and maintaining constant cell volume, further investing in Jet's cleaning equipment was a key consideration.
IPG chose the Flexo Wash Plate Wash PW82WR due to its proven length of time in the market and it being considered the cleaning standard for the market.
The Flexo Wash PW82WR washer is manufactured in stainless steel and high-quality materials, and designed with the following features and benefits in mind:
Easy loading of the plates by a speed adjustable conveyer belt
Gentle cleaning process for all types of ink
User friendly plug 'n play technology
Minimum maintenance
Sturdy construction with long lifetime of the equipment
Environmentally friendly cleaning liquids.
Importantly, the plate wash system also cleans all types of ink without wear and tear of the plates.
Keeping up with high volume
Another key factor for IPG when considering new cleaning equipment was that the machine would be used every day and would need to be able to handle a high volume of 250-300 plates per month on average running through the machine. IPG needed equipment that could keep up with the high usage and still perform well.
"The Flexo Wash is capable of performing at the same high-level day after day, and so was well suited to IPG's needs," said Darryl Wilson, Jet Technologies. "The average processing time of the Flexo Wash PW82WR is only three minutes per running plate metre, significantly reducing IPG's cleaning times, which in turn improves the efficiency and productivity of operations."
The quick and gentle cleaning process is fully automatic and leaves the plates 100 percent clean and dry within a short period of time.
Working towards the future
The Flexo Wash was integrated with IPG's existing daily operations, which meant there were no disruptions to IPG's printing operations and productivity.
The knowledge, expertise and local support provided by Jet Technologies ensured a smooth installation and implementation, with training provided to integrate the new equipment seamlessly into their existing operations and the high communication from Jet Technologies during the project helped to ensure the success of the implementation.
IPG is seen as a leader in their specialisation, with plans to continue building the business for the future. This investment demonstrates the long-term commitment the group has made to the flexible packaging industry.