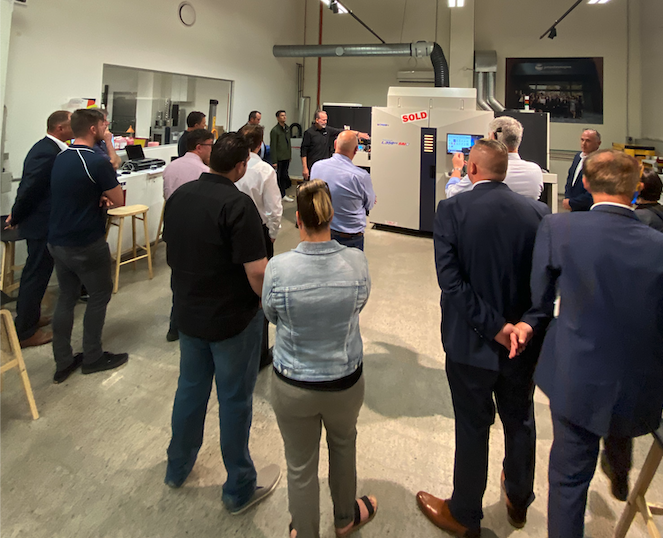 Jet Technologies' Digital Innovations session a success
Jet Technologies recently hosted a Digital Innovations session at its Sydney demonstration centre, bringing together prospective and existing customers, supply partners and media at the event.
The Digital Innovations session, potentially the first face-to-face gathering of its kind in 2021 for the industry, showcased the recently launched Screen L350UV SAI S and hosted conversations around the growth of digital.
The company's director Jack Malki told Sprinter that the event was a success and he was glad that Jet Technologies facilitated an industry event for people to mingle again following COVID-19.
"It has been an odd year and we're excited to have any kind of event. It was very hard to know what to expect in terms of numbers and attendance, because people in other states are still a bit twitchy about travel. We in NSW are very comfortable about attending events locally, so a lot of our attendees today are local," he said.
"We didn't have as many interstate visitors as we would have liked but given the situation, we are thrilled to have the number of visitors that we've had. It's also the first face-to-face event for our industry for the year and we're just thrilled with that. I think everyone was happy to be here as well. It's just the start to having more 'normal' situations in future."
At the event, Malki also gave a rundown of the company's relationship with Screen, which has been ongoing for the last 12 years.
"We've had a relationship with Screen that branches beyond the team here in Australia. We also have a relationship with the team in Japan. Screen has a solid, reliable team and without them, this partnership wouldn't have worked," Malki said.
"Whoever has a Screen machine knows that they are always a call away and they are there whenever needed. They have so many areas of great expertise and a very strong global presence."
Malki also spoke about some recent trends he has noticed in the digital and packaging industries.
"Labels and packaging has grown year-on-year and that's quite impressive. It is in a better position than some other markets. In terms of digital and inkjet, we have seen it grow by more than two times in terms of square meters," he said.
"At the moment, we're also seeing some great supply chain disruptions, resulting in challenges in getting things out of Asia in the same sort of way or cost as before. And with consumers demanding solutions 'now', inkjet has been on the rise locally.    
"So, I think we're going to see increased growth in packaging and exponential growth in digital packaging. With the new Screen L350UV SAI S press, we're able to do a lot of things on a lot of different materials successfully – this is a machine that is going to last many years."
Screen GP managing director Peter Scott provided more detail around the Screen L350UV SAI S press, saying that "it stands for being colourful, providing stability, ensuring accuracy, and integration, resulting in a flexibility to meet the demands of today".
The L350UV SAI S aims to bring a new level of productivity to the market, in terms of both full colour as well as high-opacity white print.
According to Screen and Jet Technologies, productivity with the L350UV SAI S has jumped by 20 per cent in colour printing from the past model (regardless of number of colours, repeat or otherwise) and 67 per cent with its highest opacity white – going from 30m/min to 50m/min in all instances.
The addition of orange and blue to the current configuration, along with CGS colour matching using CxF data, enables printers to achieve an extremely wide range of the colour gamut, with extremely high levels of repeatability. The extra colours also provide a noticeable ink saving.
The L350UV SAI S is also able to print on an extremely wide range of local and imported materials.
The companies mentioned that the current installations in Australia and New Zealand report uptime in the range of 92 to 97 per cent, including the oldest installations that are approaching five years.
At the event, the companies also mentioned that the L350UV SAI S unit they had at the Digital Innovations session has been sold, with more details around this announced at a later date.